9.-13.9.15: EM Blair Castle
www.blair2015.com / Ranglisten
Impressionen & Videos
(sorry für die Qualität der Handy-Pics/Videos ab FEI-TV und WDR; FEI-TV lief leider nicht reibungslos...)
Ben Cross 1; Ben Cross 2; Ben Cross 3; Ben Cross 4
Patrizia Cross 1; Patrizia Cross 2
Leider sah man von Jasmin und Camille nichts.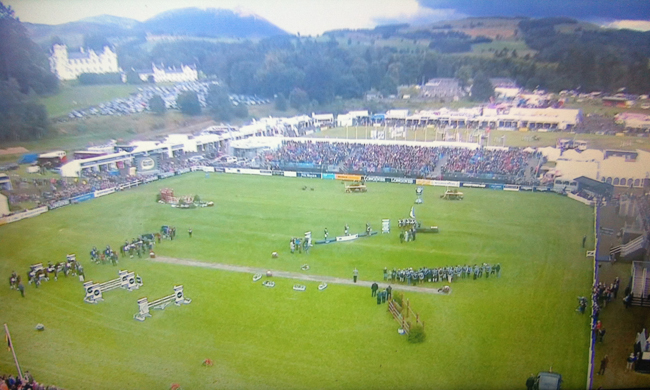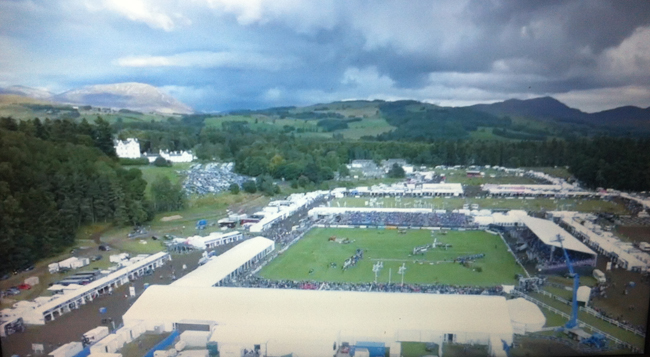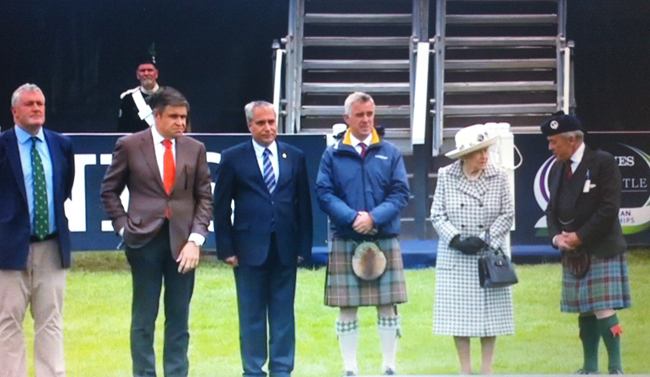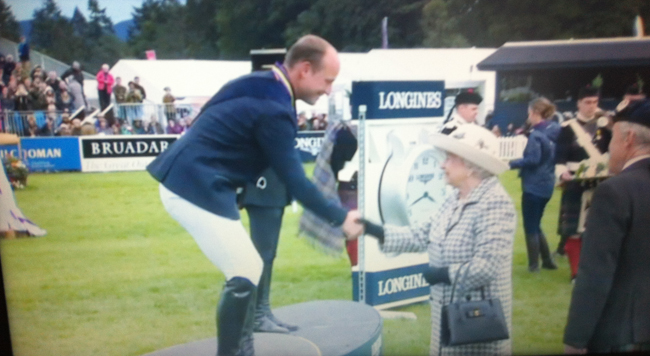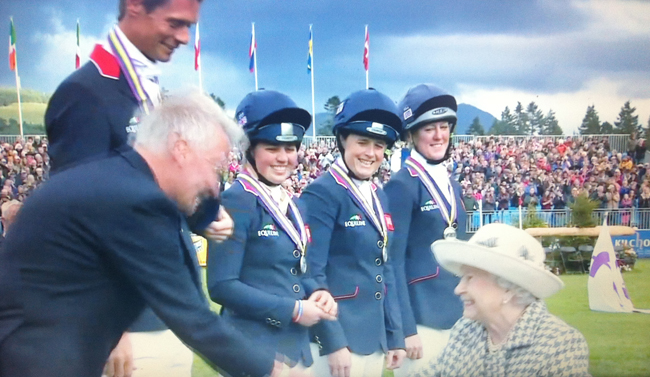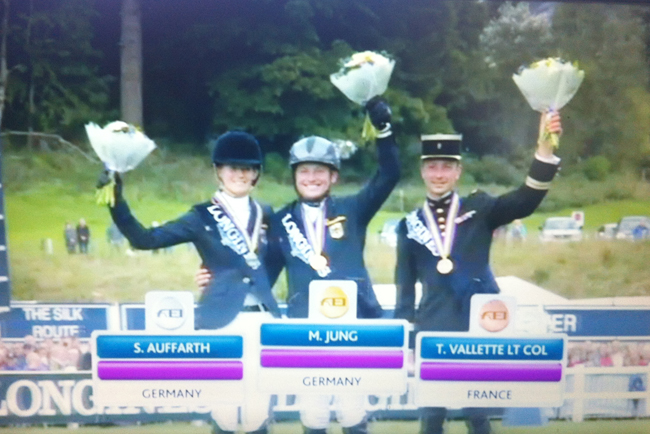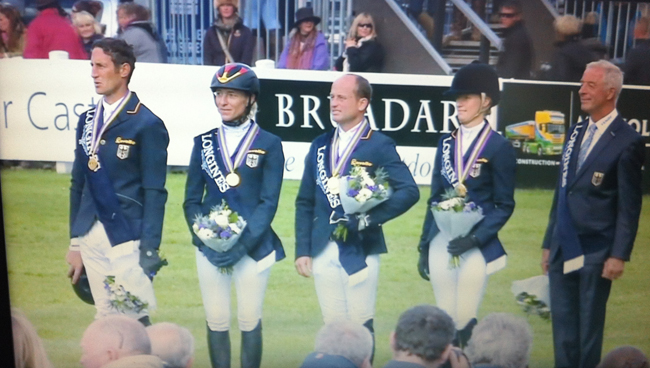 Hintergründe zum Cross:

Andrew Hoy ging den Kurs mit Ian Stark ab und kommentierte alle Hindernisse fürs Horse&Hound

Interview mit Crossbauer Ian Stark

Geländekurs: The Track is big, bold and fair

Virtuelle Geländebesichtigung mit Kommentaren von Crossbauer Ian Stark

Final Statements aus der FEI-Pressemitteilung:

German riders were simply the best on the final day of the Longines FEI European Eventing Championships at Blair Castle (GBR) where, in the presence of Her Majesty The Queen, who presented the medals, they won team gold by more than 50 penalties and the matchless Michael Jung captured the fifth individual title of his career.

All four team members Jung, Sandra Auffarth, who also took individual silver, Ingrid Klimke and Dirk Schrade went clear in the Jumping phase to give Germany a fifth successive team title. Their winning run began at the 2011 FEI European Eventing Championship at Luhmühlen (GER) and has included three European titles plus Olympic and world team golds.

Jung confirmed his place in Eventing history as one of the world's greats when he equalled Ginny Elliot's (GBR) record, set in the 1980s, of three European titles on three different horses. He has, however, now beaten her record of six consecutive individual medals this is his seventh since his senior championship debut in 2009.

This third European title was perhaps the hardest fought, as it came on an inexperienced eight-year-old horse and after a Cross Country phase run in the most testing of weather.

"Now I can say I have a champion for the future", said a visibly thrilled Jung, in a warning to the rest of the world that he is not planning to give anyone else a chance just yet. "fischerTakinou is a really good horse and I think he has the quality for the next championships."

Great Britain, the silver medallists, have not been beaten at a home European Championship since 1959, but they faced a mountainous task when they had to add Nicola Wilson's Cross Country penalties after the retirement of William Fox-Pitt.

"I feel rather fraudulent sitting here", joked Fox-Pitt, who was competing at his 10th European Championship and has only once failed to bring home a medal. "But the girls did so well. They really deserved the silver."

Pippa Funnell, who finished eighth on the nine-year-old Sandman 7, and Kitty King (Persimmon) both produced clear rounds, and team newcomer King, fourth, only missed an individual medal by 0.1 penalty. British individual Izzy Taylor, in overnight third with KBIS Briarlands Matilda, hit the planks to drop to sixth.

Funnell, European champion in 1999 and 2001, summed up a weekend of personal triumph: "I think the selectors hoped that with my experience I would coax a good result out of an inexperienced horse, but I didn't need to coax at all. This has kept my Olympic dream alive."

A difficult weekend for Wilson nearly got worse when she misjudged fence seven and One Two Many tripped through it, leaving her clinging on around his neck. "It felt like a lifetime in which I had plenty of time to think through the consequences of falling off", she said. "I knew we were down to three riders and I kept saying don't fall off, don't fall off!" to myself.

The French were a very happy quartet after taking the team bronze medal and securing their Olympic qualification. The icing on the cake was an individual bronze medal for team newcomer Thibaut Vallette.

The French army officer, a Lieutenant-Colonel based at the army equitation school at Saumur (FRA), jumped a superb clear round on Qing du Briot ENE HN, an 11-year-old Selle Francais by Eolien ll.

"I never expected this to happen", said Vallette. "Our first job was to qualify for the Olympics so to come home with two medals is a real bonus."

The other Olympic qualifying spot goes to the Swedes, who finished in fifth place behind the Netherlands, who had booked their "ticket to Rio last year in Normandy."

The magnitude of the German victory will have left the rest of the world wondering what they can do to beat them. "You can see by our smiles how much this means to us", said Ingrid Klimke. "But we are very aware that we have to keep working to stay here because there are many other nations who want to be standing where we are."

The best team has definitely won, concluded Event Director Alec Lochore. "The Germans did the best job of dealing with Scotch mist!"

Nach dem Cross: Statements aus der FEI-Pressemitteilung:

The German team is ruling supreme with a massive nine-fence lead over Great Britain following Cross Country day at the Longines FEI European Eventing Championship at Blair Castle (GBR) where relentless rain made conditions testing but also produced some brilliant, brave riding.

The standout performance was that of defending individual champion Michael Jung (GER), who flew around inside the optimum time with consummate ease on the eight-year-old fischerTakinou, the youngest horse in the field, and now has two fences in hand to win a third consecutive European title.

Jung is accustomed to success, but he was visibly overwhelmed at the talent and courage of his newest star, and had just one word at the finish, "perfect!" Afterwards he added, "I knew fischerTakinou was a very fast horse and easy to handle at fences, but he ran like a steeplechaser. It was a brilliant feeling."

His team mate Sandra Auffarth, the Dressage leader, is now in individual silver medal position after clocking up 11.2 time penalties on Opgun Louvo. She was held on course in the chilly rain while a fence was repaired, but she has such a trusting partnership with her 13-year-old chestnut gelding that they could pick up the threads of their smooth round seamlessly.

Ingrid Klimke (GER) is sixth on Horseware Hale Bob with 8.8 time penalties, while team pathfinder Dirk Schrade (GER) is lying eighth with 5.2 penalties on Hop And Skip.

Britain, the host nation, has five riders in the top 10, but unfortunately only two of them are team members: team rookie Kitty King, lying fifth on Persimmon, and former dual European champion Pippa Funnell, who is in 10th place on the youngster Sandman 7.

"I'm so relieved because I was feeling the pressure this morning," said King. "Persimmon was feisty and I had to work to make him listen to me, but he was always looking for the flags and was so genuine. It was a good fun track to ride and it's great to feel that I haven't let anyone down."
Funnell was emotional after her round: "I've never been so nervous at a championship. I didn't want to pressurise such a lovely young horse but at the same time I knew I couldn't go round quietly because I was riding for the team. The horse was classy; I'd love to think I could take him to the Rio Olympics."

Nicola Wilson, who has produced numerous clear rounds for the British team over the years, had a shock runout with One Two Many at the double of corners sited in the arena (fence 16) and anchorman William Fox-Pitt unexpectedly retired Bay My Hero. The 12-year-old gelding was clearly not enjoying the wet ground and ran out, for the first time in his career, at the brush arrowhead at fence 17.

The stylish Izzy Taylor, competing as an individual for Britain, was one of only three riders to achieve the optimum time of 10 minutes 13 seconds and is now in individual bronze position on the good mare KBIS Briarlands Matilda. Gemma Tattersall (GBR) was the first to beat the clock with a dazzling round on Arctic Soul and is now seventh, two places ahead of Laura Collett on Grand Manoeuvre.

Dressage runner-up Holly Woodhead (GBR) saw her medal chances evaporate when DHI Lupison ran out at the fourth fence, and Francis Whittington (GBR), seventh, retired Easy Target.

The French team's quest for Olympic qualification is a step closer after three clear rounds and they are now in bronze position with Thibaut Vallette close to an individual medal in fourth place on Qing du Briot ENE HN.

The pressure was on when their second rider, Karim Florent Laghouag, fell with Entebbe de Hus at the influential downhill combination, the Haggis, Neeps and Tatties (fences 21-22), where the middle element – the Haggis – was later removed due to the wet ground.

Team anchorman Thomas Carlile (FRA), currently 24th on Sirocco du Gers, said: "We really had to finish for the sake of our Olympic qualification. It was not for me to play an individual role, the team was the priority, and my horse has played a huge part in this, he was very generous."

The Netherlands, who also lost their second rider, Alice Naber-Lozeman (ACSI Peter Parker), with a fall at fence 20, are in fourth place. Sweden is fifth but will need their three remaining riders to pass the horse inspection to gain their Olympic qualification, as their pathfinders Johan Lundin and Johnny Cash fell at fence 18.

The Spanish team is sixth after a highly creditable Cross Country performance, and are the only nation other than Germany to have four clear rounds.

The Irish team had unbelievably bad luck, with falls for Joseph Murphy (Sportsfield Othello) at fence 22, the Tatties; Padraig McCarthy (Simon Porloe) at the corner at 16; and Austin O'Connor in the water at 19. Only Michael Ryan (Ballylynch Adventure) managed to get home clear and is now in 14th.

There were 35 clear rounds and 45 completions. Irish individual Sam Watson, currently 13th on Horseware Lukeswell, summed up a memorable day of competition: "I love it when the weather is like this because the good riders come to the fore," he said. "You just have to deal with whatever comes out of the heavens!"

Nach dem 2. Tag Dressur: Statements aus der FEI-Pressemitteilung:

Germany is on track to win a fifth successive team gold medal after their third and fourth team riders, world champion Sandra Auffarth and Ingrid Klimke, rode superb Dressage tests at the Longines FEI European Eventing Championship at Blair Castle (GBR) today.

However, their team manager Hans Melzer is taking nothing for granted. "These riders are professionals and pressure is a good thing," he said. "We have learned a lot from Fontainebleau [the 2009 FEI European Championship] when, having just won the Olympics in Hong Kong, we had a team disaster. So we will be concentrating hard and watching other teams, and also the weather, in case we need to change our plans about certain fences. But our horses are all well and we're excited."

World champion Sandra Auffarth, now in the lead on Opgun Louvo with 31.4 penalties, just 0.3 ahead of British individual Holly Woodhead, added: "Tomorrow is another day and I am focussed on that now, but I must admit that I am hopeful of doing well. I think this course will suit my horse."

Klimke is currently in eighth place individually on Horseware Hale Bob with a score of 37.8. "I was a bit worried because the wind was blowing and 'Bobby' might be thinking he was going across country, but he did a wonderful job and was supple and obedient," Klimke said of her Badminton runner-up.

"He has a rather 'thoroughbred' canter, which isn't so great for Dressage, but he was very 'through' in his transitions and let me show how responsive he is to my aids. The Cross Country will be perfect for him because he is well balanced and full of energy. Our trainer Chris Bartle always reminds us that it's not a Dressage competition!"

Great Britain, whose last European team gold medal was in Fontainebleau (FRA), are currently in second place, 10 penalties behind Germany.

Unusually, William Fox-Pitt (GBR) is the team discard score after a Dressage test that will have left the world number two slightly disappointed. He scored 43.0 on Bay My Hero, but any hopes of breaking the 40-penalty barrier were dashed with average marks for trot work and paces.

Instead, it was former dual European champion Pippa Funnell (GBR) who produced the counting score, 41.0, on the inexperienced nine-year-old Sandman 7. "I think the horse was a little nervous with all the people and the atmosphere and I know he could have done better but, for this stage of his career, I am very pleased with him," she said of the gelding by Sandro Boy that she bought from Germany as a six-year-old.

"It's a huge honour to be in the team. I was a little surprised, but I'm thrilled to be with William [Fox-Pitt] and Nicola [Wilson] again, and Kitty [King] has been going so well. What is exciting is the strength and depth we've got. Every one of the 12 British riders here could get a medal."

The cost of one Cross Country mistake covers the top four teams after Dressage. France and Sweden, the bronze and silver team medallists in Malmö (SWE), are now in third and fourth positions and looking good in their quest to secure qualification for the Olympic Games in Rio next year.

Niklas Lindbäck (SWE), a team silver medallist in 2013, is best of the Swedish team in 10th place with a score of 38.1 on the 12-year-old bay mare Cendrillon. "I tried to do my best to help the team," he said. "My horse did some amazing trot work but was a little bit tense in the canter. We struggled to keep it together but she was doing her best for me.

"We still have a long way to go as a team but if we do our usual Cross Country performance we should get there [to Rio]. However, we're not thinking about that too much; we're competing for medals!"

Nach dem 1. Tag Dressur: Statements aus der FEI-Pressemitteilung:

Youth proved no barrier at the Longines FEI European Eventing Championship at Blair Castle (GBR) when 21-year-old Holly Woodhead (GBR) and DHI Lupison took the lead after the first day of Dressage with the outstanding score of 31.7 penalties.

And Michael Jung (GER), the defending champion, produced a masterful display on the youngest horse in the field, the eight-year-old fischerTakinou, and is in second place on 33.5.

The first two British team riders, Kitty King, who is lying fifth on Persimmon, and Nicola Wilson, in third place on One Two Many, both scored under 40 and have put the host nation in the lead at this early stage of the competition.

Woodhead, an individual silver medallist at the 2014 Young Rider European Championship, has only ridden at three-star level a handful of times, but a win in the national under-25 championships and her ability to score highly in the Dressage arena prompted the selectors to give her valuable experience at senior level.

"My team mates told me to try to stay focussed and to enjoy myself," said Woodhead, who produced a beautifully soft test on the 11-year-old Irish Sport Horse gelding by Lupicor.

Jung explained that he had chosen to ride FisherTakinou instead of his 2013 champion Halunke because he felt the chestnut Anglo-Arab, which he spotted as a six-year-old at Le Lion d'Angers (FRA), would cope better with the hills. "He is a wonderful horse," said Jung. "He listens to you and is very relaxed."

If Jung were to win gold again this weekend, he would equal British rider Ginny Elliot's record, set in the 1980s, of three successive European titles on three different horses.

Nicola Wilson said the mood in the British camp was one of elation as two more individual riders, Laura Collett (Grand Manoeuvre), and Sarah Bullimore (Lilly Corinne), a late substitute for Dani Evans, have both scored personal bests and are in sixth and seventh places.

France have had an excellent day as well because their first rider, Thibaut Vallette, a Lieutenant-Colonel in the French army, scored 36.8 to lie fourth on Qing du Briot ENE HN, and Karim Florent Laghouag (Entebbe de Hus) is in eighth place on 38.7 to put the team into second place at this stage with Olympic qualification as the main goal.

"My horse has super paces but he can be a bit shy in the arena, so I was pleased that he felt able to show off here," said 41-year-old Vallette, who is competing at his first championships. "I'm very proud to be on the team. I don't mind going first, as I like to concentrate on myself at a competition rather than be distracted by watching other people."

Dirk Schrade (GER) and the 16-year-old Hop And Skip, holders of European and world team gold medals, did their usual reliable job for the German team, which is in third place, and scored 43.1 to lie 11th individually.

As Schrade explained, their real job is on Saturday morning when the aim will be to give the team a confidence-boosting start on the Cross Country. "Dressage is not our best phase, but now we can both enjoy ourselves!" he said.

Sweden is currently in fourth place, ahead of Ireland, whose first rider, Joseph Murphy (Sportsfield Othello) was quickly re-routed from Burghley after Aoife Clark's horse Vaguely North had to be withdrawn. "It's been a rollercoaster week, but team spirits are great," said Murphy.

Irish team rookie Padraig McCarthy has made a great start to his first championship and is in 15th place on a score of 46.6 with Simon Porloe, the horse formerly ridden on the British team by his fiancée Lucy Wiegersma in 2013.

"I'm pinching myself, it's like a dream," admitted McCarthy, who only started Eventing at novice level last year. He originally competed in Jumping, but gave up riding in 2003 to concentrate on his career in economics until meeting Wiegersma in 2011.

"It's been quite a steep learning curve and Nick Turner [team manager] has taken quite a gamble giving me a shot," said McCarthy, "but we have had some consistent form Cross Country and in the FEI Nations Cup™ this year."

Statements / Infos:

Michi Jung, Ingrid Klimke und Bettina Hoy über die Geländestrecke: Statements

Das Los hat entschieden: Die Schweiz kommt nach den Gastgebern: Reihenfolge. Hoffen wir, dass wir dennoch nicht nur GB-Horses sehen werden im TV...

Stark's courses have a reputation for frightening riders...
Pippa Funnell am Dienstagabend, ob sie das Gelände schon abgegangen sei? - "Ja, leider. Jetzt kann ich noch eine Nacht mehr nicht gut schlafen..."